OUR TRADITION FOR YOUR WELLNESS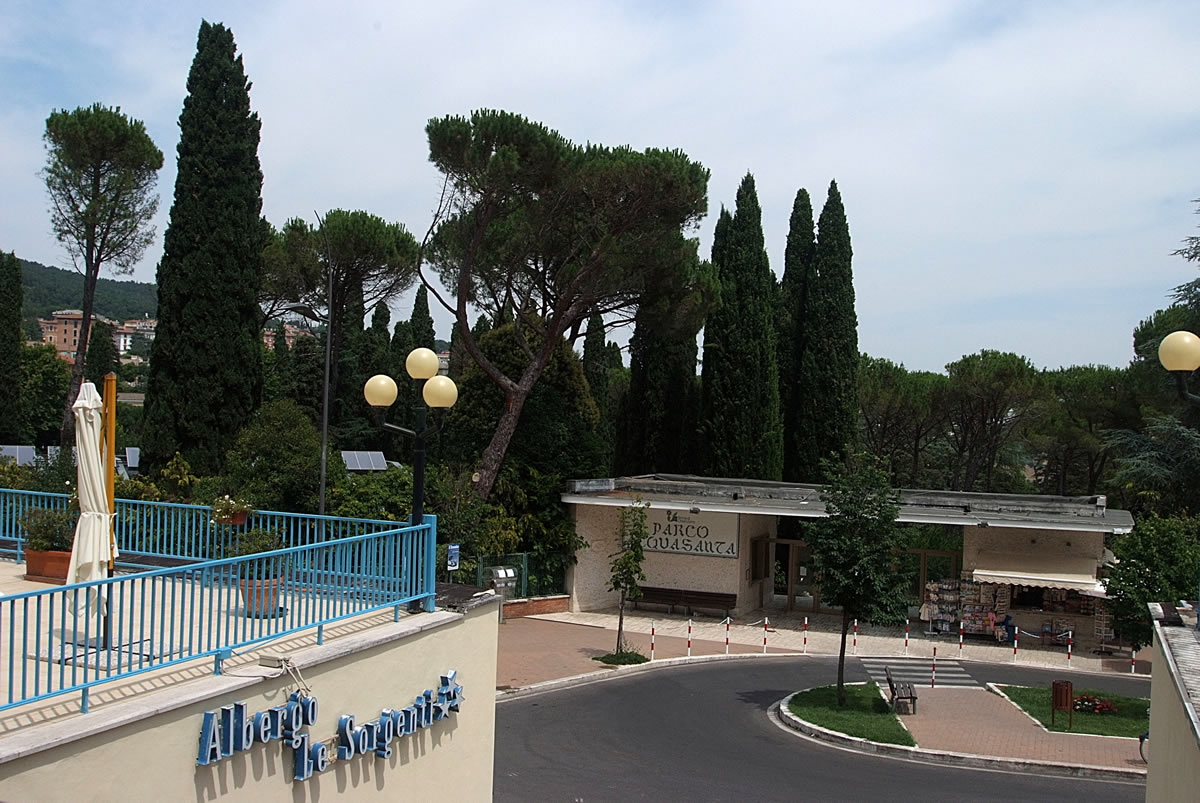 The Hotel Le Sorgenti is a pleasant hotel, located in the hearth of Chianciano Terme, and it is the ONLY ONE just ACROSS THE STREET from the entrance of the Parco Acqua Santa. Within the park, there are both the traditional and famous source of Acqua Santa, curative for liver disorders, and the ever-new structure called Sensory Spa, a high quality and excellent Spa, based on a new idea of wellness.

Besides, the Hotel Le Sorgenti is located 50 meters from the entrance of Parco Fucoli, where the"Palamontepaschi" stands. This new conference center is designed for hosting both high-level music events and conference activities.

Founded in 1922 by the family Morviducci, Le Sorgenti was one of the first hotels of Chianciano and it has been run by the same owners ever since. Even today, run by the family's third generation, the hotel offers to its guests the professionalism, the care and the passion of a long tradition at customers' disposal.

With its 72 rooms, the structure takes advantage of a unique location, because it is surrounded by green parks.
The Hotel Le Sorgenti guarantees a perfect silence to its guests, despite the position in the commercial hearth of Chianciano. Moreover, the hotel offers a large, private car park, near the entrance, and the opportunity of using public transport, thanks to its great proximity to the stops.

The restaurant, which is personally run by the owners, offers an excellent traditional cuisine, tasty, rich and never monotonous. The wide choice of solutions for a healthy and balanced diet is perfectly in line with the health-enthusiast philosophy, that has been the fortune of Chianciano Terme for 100 years.

The recipes, collected and elaborated over 90 years of culinary activities, range from the Tuscan tradition of land and sea dishes, to international food, exclusively prepared with seasonal products and preferably regional ingredients.

The cellar offers a wide selection of local wines, selected among the best wineries in the area: from the Chianti Classico to the Brunello di Montalcino and the Nobile di Montepulciano, with true gems of years, which is difficult to find on the market. Even the proposed water choice is not random, but meditated in order to optimize the effects of thermal treatments at the table: the Sant'Elena water is very light, perfect for the care of kidney stones, and it comes from a local source. Each level of the hotel, which has a hillside structure, is then made more easily accessible by the elevator, in order to avoid stairs to those who prefer so.

The kitchen is also able to serve (on request) full menus for those who have special dietary needs (vegetarian, vegan, etc.) or food intolerance (celiac disease, etc.).

The restaurant service and the bar service in rooms are free.

Languages spoken: Italian, English, French, German.